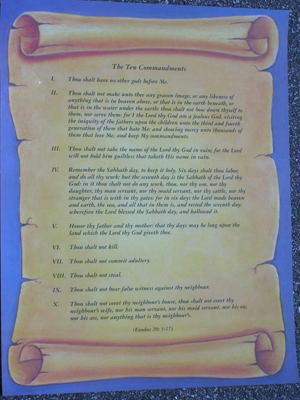 Ten Commandments Posters
These Posters are made of thin cardboard and have a plastic laminated coating to make them weather and rain resistance. They are perfect for displaying in a Sunday School room or mounting in a picture frame. The size of the posters is 14 X 18 inches.
If a person purchases $10 or more of other Ten Commandments gift items up to 5 posters can be included for free. For a list of gift items and cheap prices visit: The Ten Commandments Gifts Items
| | |
| --- | --- |
| Quantity | Cost Each |
| 1-14 | $0.50 |
| 15-29 | $0.45 |
| 30-49 | $0.40 |
| 50+ | $0.35 |
$5.00 for shipping and handling
To order, call 256-523-6425, or send an email to: the10commands@yahoo.com
Ten Commandments Heritage Advertising
Heritage Advertising, Inc.
4100 Bob Wallace Avenue SW
Huntsville, AL 35805
Telephone 256-523-6425

---
Free Printable List of the Ten Commandments
You may print out a copy of the List Ten Commandments list. You could use this to post the commandments from Exodus 20 on your refrigerator as a reminder, and a good way to learn them.
See list at Exodus 20 Exodus 20
Free Magnet for memorizing the Ten Commandments
Open to Children 4 to 16. Click below to get your free magnet. Get your entire Sunday School Class involved and get each one a free magnet. Note it is required that a person memorize the Ten Commandments to get this free offer.
Memorize Ten Commandments
Free Ten Commandments Billboard
Free Ten Commandments Billboard
You can have the Commandments displayed on a large Billboard near you. Different sizes available like 10x20 or 12x28 feet, can make numerous sizes.

Ask a local church or advertising company to donate or offer the space at a reduced cost.

We can supply you with the actual billboard picture ready to be applied to a billboard. Find a barn or building to display them. Our bill board has been listed on buildings in many places in our land. You may be surprised how inexpensive it is to install one. A bill board that costs as much as $200 to will be shipped to you. You are expected to make arrangements to have billboard displayed within 30 days. You are also expected to pay shipping costs of $50.


RETURN TO HOME PAGE -
The 10 Commandments Home Page
The Commandments Coins - .50 Cent Special
The Commandments
Gods Commands on a Coin.
Interesting way to teach children. - See 50 Cents Special.
Ten Commandments Wrist Bands
Weekly Bible Verses

1Peter 5:9
Whom resist stedfast in the faith, knowing that the same afflictions are accomplished in your brethren that are in the world.

1Peter 5:10
But the God of all grace, who hath called us unto his eternal glory by Christ Jesus, after that ye have suffered a while, make you perfect, stablish, strengthen, settle you.


Ecclesiastes 12:13
Let us hear the conclusion of the whole matter: Fear God, and keep his commandments: for this is the whole duty of man.