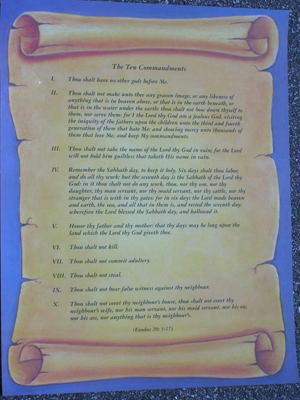 Ten Commandments Posters
These Posters are made of thin cardboard and have a plastic laminated coating to make them weather and rain resistance. They are perfect for displaying in a Sunday School room or mounting in a picture frame. The size of the posters is 14 X 18 inches.

For a list of gift items and cheap prices visit: The Ten Commandments Gifts Items
| | |
| --- | --- |
| Quantity | Cost Each |
| 1-14 | $0.50 |
| 15-29 | $0.45 |
| 30-49 | $0.40 |
| 50+ | $0.35 |
$5.00 for shipping and handling
To order, call 256-523-6425, or send an email to: the10commands@yahoo.com
Ten Commandments Heritage Advertising
Heritage Advertising, Inc.
4100 Bob Wallace Avenue SW
Huntsville, AL 35805
Telephone 256-523-6425

---
Free Printable List of the Ten Commandments
You may print out a copy of the List Ten Commandments list. You could use this to post the commandments from Exodus 20 on your refrigerator as a reminder, and a good way to learn them.
See list at Exodus 20 Exodus 20 You can have the Commandments displayed on a large Billboard near you. Different sizes available like 10x20 or 12x28 feet, can make numerous sizes.

RETURN TO HOME PAGE -
The 10 Commandments Home Page
The Commandments Coins - .50 Cent Special
The Commandments
Gods Commands on a Coin.
Interesting way to teach children. - See 50 Cents Special.
Ten Commandments Wrist Bands
Weekly Bible Verses

1 Peter 5:9
Whom resist stedfast in the faith, knowing that the same afflictions are accomplished in your brethren that are in the world.

1 Peter 5:10
But the God of all grace, who hath called us unto his eternal glory by Christ Jesus, after that ye have suffered a while, make you perfect, stablish, strengthen, settle you.
Ecclesiastes 12:13
Let us hear the conclusion of the whole matter: Fear God, and keep his commandments: for this is the whole duty of man.